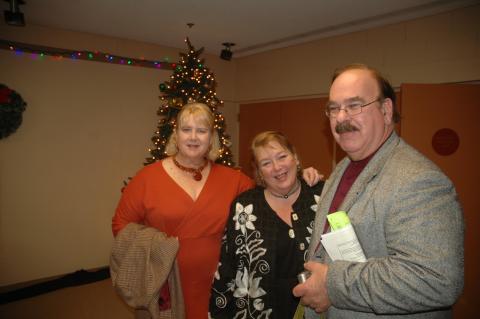 So it began, as most things do, many years ago (but not far away) in Northern California.  Sandra Brandenburg and I were lifelong friends before we became collaborators, and then business partners. We have written, together and separately, novels, screenplays, articles, interviews, poems and short stories and published some of each.  More about that later.  Lost Myths Ink became an LLC in 2004. The name comes from our fantasy series, of which the first two volumes have been published (twice!) with different covers, and now the whole series will be published with covers designed by a visionary artist of some renown. When we were in college, I introduced Sandra (nee) Barnes to Thomas Brandenburg; they were married for half their lives, and have been my two best friends. I am the CEO of Lost Myths Ink; Sandra was the COO.  In 2012, Sandra died after a long battle with health issues, and went on to the Summerland ahead of us. Sandra will always remain in our hearts, and Tommy has become the COO of Lost Myths Ink.
In 2007, we decided to form our own multimedia fund. This has taken far longer than anticipated, and been through so many twists and turns that it took over our lives. That year was also the last year we published a book, and it would be eight years before we did so again, without Sandra. But enormous efforts always take years to accomplish, and are usually the equivalent of a Shih Tzu birthing an elephant. And so it has been with us.  The ongoing saga of Lost Myths Ink will be showcased on this site in installments that started out as a book -- because once it reached 800 pages and I had years to go before I finished it, I decided it was just too long!
This adventure is now approaching lift-off. In these pages, you may journey with us, through published and unpublished works, photographs, reviews, and interviews. Here are our lives and the life of Lost Myths Ink LLC.  At least for now ...
In June of 2015 I joined Nikki Kirby on the development team for The Wonderful World of Oz, a proposed reality show about the ongoing adventures of Oberon Zell Ravenheart and his inner circle.  The development took a year, and the producers filmed the network presentation reel in early August of 2016.  It is now in etwork presentation, and we hope to start production in early 2017.
So 2015 was a strange year...we lost three-quarters of a million dollars due to Ursula Strelitz and a bad mistake on the part of a former business partner.  Looks like we have an Executive Producer for OZ; hopefully it will begin production in February of 2016.  We are now working with E.I.D., an investment company in Geneva who actually appears to know what they are doing...after the big investment deal with Craig Field failed (because E.I.D. revealed he doesn't actually own the bonds he was trying to invest) we needed people who had a clue...I think these are the ones.  In January of 2016 we also began working with a company in Texas called Hazel, Inc., a management/holding company for the owners of international and historical bonds and large-scale deposits for investment.
And 2016 has been an even stranger year -- for Tom and I, the year without a home and more loss.  During the four months from the end of July through the beginning of November, I had a severe infction in my jaw and had to take Super Penicillin for 10 days, I was attacked in Reno and spent a week in the hospital there; then a week at Marin General being evaluated by a PTSD specialist.  On September 26th I was in a serious freeway accident and spent 6.5 weeks in Memorial Hospital in Santa Rosa.  I had surgery on my shattered left arm and it will take about six months for me to recover complete use.
When I was released, our business had crashed ans burned.  We have had restart again, and I came as close as possible to leaving this existence behind...
And we are now starting a new venture.  An editing/proofreading/ghostwriting business with Valerie Alwell, Maika Clark and Kurt Niece.  No name yet!
Merry meet -- and merry part -- and merry meet again!
-- Debora ElizaBeth Hill