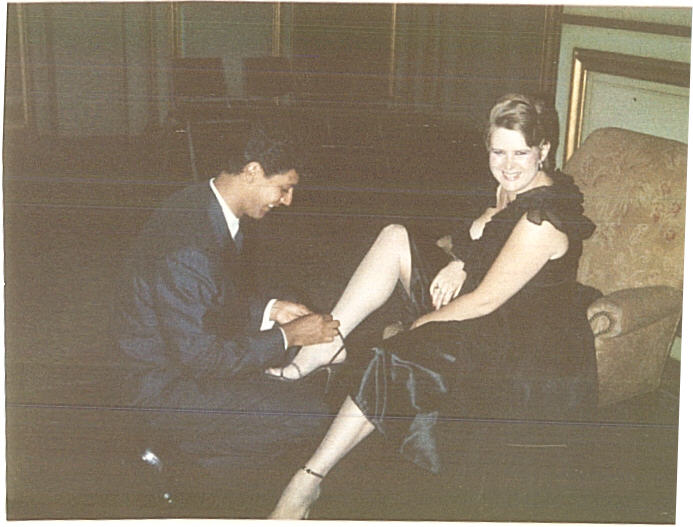 On April 5, 2000, in midafternoon, my oldest friend died. 
She went peacefully; one moment she was still breathing, the next
she'd left her mortal shell behind.  Although there was no
suffering, it wasn't a sudden process or a shock.  My oldest
friend was my mother, and for two years she had been suffering
the ever-increasing debilitation of Parkinson's Disease.  It came
to her late in life, and in this she was blessed.  But she did
spend two years in a wheelchair, and the road to that chair was a
difficult and painful one.
It began in February of 1998,  in the middle of an el nino
storm that blew the roof up on our house.  I was working on a
television show in Los Angeles, and the kitchen ceiling fell in,
knocking Mom off balance and into the glass top of the kitchen
table.  As if that was an omen, after that her balance was never
the same.  Her entire face was bruised and battered, but there
seemed to be no permanent damage.
She got a walking stick, I painted a flowering vine up it. 
She got a wheeled walker, but one day fell out of bed and broke
her collarbone.  After the el nino incident I gave up the
television work and remained with her, and after the broken
collarbone, I knew she couldn't walk anymore.  Kaiser sent her a
wheelchair, and a physical therapist.  The therapist was a
wonderful woman named April, who was able to help her walk a
little, and do some exercises.  And unlike some invalids, Mom
didn't spend her life indoors, watching television.  We got her
talking books, provided free (with the special tape machine) from
the state.  She went on outings with my friends and me, always
welcome because of all the parents, Mom was the one who belonged,
who was a friend to all generations.
During her last two years she was able to go on picnics, to
the beach, the woods, the theatre...the only real disaster was an
outdoor celebration, New Year's 1998.  Not a good plan in a
wheelchair, when its' cold outside.  But she really wanted to go,
and one of the hardest things for a child to realize is the
increasing limitations of a parent.  Her last New Year's Eve some
friends and I threw a big Millenium Masque at a clubhouse in
town, and even though she had wraps over her hand-beaded silk top
and gold lame evening skirt, she held her red and gold masque all
evening.  It was a short one for her, and she didn't stay awake
until midnight, but she was there!
Something I learned from caring for Mom is that infirmity
and even severe disability don't deminish the humor or joy, fun
and entertainment.  I've always been a party-giver, usually three
a year including a big Yule buffet.  This didn't end with Mom's
incapacity, even though she couldn't move around, everyone came
to her, and she still took great enjoyment in parties and
gatherings.
Every day is a little adjustment, some so minute you don't
notice them at all.  Until one day you look at this person you
love so much, and you realize they're going to leave you.  Soon. 
And they need to, because this frail shell we wear as our mortal
clothing is becoming threadbare.  Worn out from living.  Up until
the end, Mom loved clothes.  I am a professional grade
seamstress, and amateur designer, and even after she lost so much
weight she was the size of a child, she still decked out like a
fashion plate.  Strangers would complement her on her clothes,
her jewelry.
The things we love should be with us throughout life.  We
were lucky, Mom and I...she was always a tiny woman; 5'1" at her
tallest, 105 at her heaviest.  I am a 5'8" amazon, and at the end
I could easily pick her up from her chair and put her into the
car.  I could do the same when she couldn't even stand, and put
her onto the bed, or into a chair.  Everytime I did, she would
rest her head on my shoulder and say, "I love you, DebDeb. 
You're the best thing that ever happened in my life."
Our wonderful doctor, performed many tests for a year,
trying to determine what had happened to Mom's legs.  When she
was finally diagnosed with Parkinson's, it was a death
sentence...she was too old for the medication.  The doctor told
me in January of this year, she probably didn't have 6 months
left.  I never told her, though, and on the Saturday before her
death, we went to see Erin Brockovich and for pizza with friends.
Sunday night she had a massive stroke, and never recovered.
Goodbye my oldest friend, best mother a daughter could hope
for.